Our apartment is in an old building in midtown Detroit. I'm not exactly sure when it was built, but if I had to wager a guess I'd say probably 1920s or before. This guess is based on the fact that my dad's house was built in the early 1900's and there are a lot of similarities between our building and his house.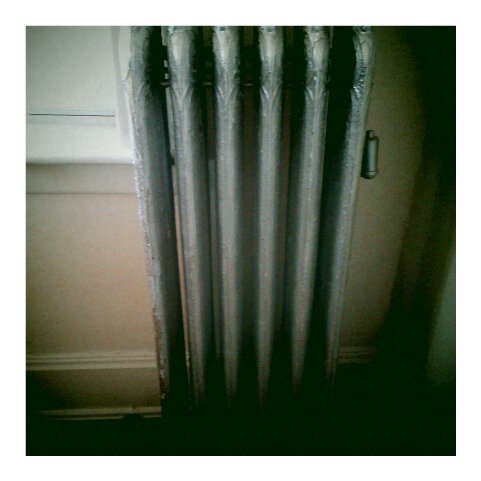 The building is heated with radiators. I was really excited about living in a building heated by radiators when we first moved in because I tend to feel cold all the time, and radiant heat said to me "This building will be hot all winter long, in fact, you may very wastefully decide to open the windows in the middle of January to bring it back down to a comfortable temperature." This turned out to be not the case. Our building is chilly all winter long. But, in addition to the radiators, all the units are also equipped with a gas fireplace. This allows us to give our apartment a warm glow on cold winter's nights.
Being conscientious about our energy use, we do try to limit our indulgence in the use of the fireplace to nights or weekends when it is quite cold outside.  The chill in our apartment generally isn't too bad unless the temperature outside drops into the teens or below. We plastic over our windows to keep the drafts at bay. And, since we live on the top floor, we also get to reap the benefits of our lower level neighbors using their fireplaces. When we do use our fireplace we close all the doors to the kitchen, bedroom and bathroom so that we're only heating up the living room and dining room.
We also try to be pretty conscious of the electricity we're using as well. Admittedly, Husby is much better about this than I am. But generally, if we're not using it, it's off. And in many cases, not just off, but also unplugged. Unplugging our electronics prevents them from drawing phantom loads even while they are off.
Southeast Michigan is supplied its gas and electricity through DTE. DTE offers a program called Green Currents, which Husby and I have opted into. Basically, we pay a little extra per kilowatt-hour to get our energy from renewables rather than from coal and drilled natural gas.*

Currently in Michigan, the Green Currents program gets about 90% of their energy from bio gas, and 10% from wind power. Our energy costs a little bit more than it would if we weren't a member of the Green Currents program, but spending the extra dollar or so each month helps us tell DTE that it is important to us that they continue to invest in renewable energy solutions, as well as helping to reduce the overall use of fossil fuels in Michigan. It's one of the ways that Husby and I choose to vote with our dollars.
Bio gas is methane collected from cattle farms and landfills – both naturally occurring as a product of the breaking down of organic material.  When methane is freely released into the atmosphere it is a very potent greenhouse gas, but it is also a very efficient fuel. Methane produces more energy per unit than coal. When it is captured and burned for energy the by-products are carbon dioxide and water. Carbon dioxide is obviously also a greenhouse gas, although it is less potent than methane. So bio gas isn't a perfect solution to reducing our carbon footprint, but it is a way to use energy from a more potent greenhouse gas and convert it into a less potent greenhouse gas.
*Being a member of the Green Currents program does not necessarily mean that the exact energy that we are using comes from bio gas and wind power, as these energy sources are currently limited by geographical area. It means that for every kw-h of energy that we use, DTE is supplying that much energy in bio gas and wind power to someone who lives in the areas that have access to these sources. It's a matching program.
…
want to keep up with building earth? You can follow us on facebook or  @buildingearth on instagram!