Cheeks just hit 5 months this past week. This means we have about 150 days of cloth diapering experience under our belts. We're hardly experts, but I do think we're doing cloth diapers in a fairly minimalist, as green as possible, way. And in the interest of sharing how we live green, I wanted to share what we do.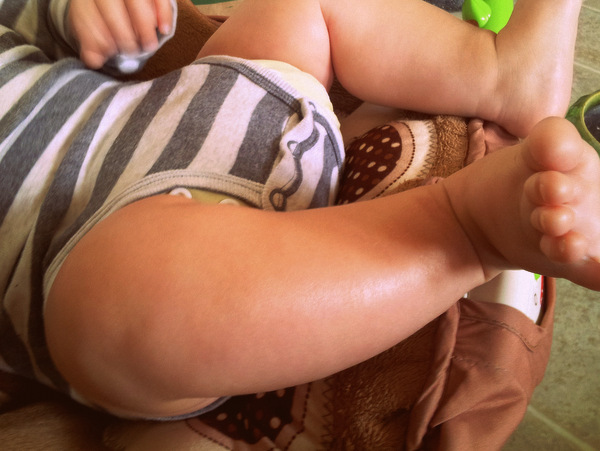 Background
Since every baby is different, and thus every family's cloth diapering needs will be a bit different, I'll start out with a little bit of background on Cheeks. He was a bigger babe from the onset, weighing in at 8 lbs. 14 oz. He wore newborn size clothes and diapers for 2 weeks at most. He is currently crushing the scale at 17 lbs 9 oz.
For the first 10 weeks or so we had a diaper service that provided clean pre-folds for us every week. We used our own wraps, so our process has remained pretty much the same. (I highly recommend this if you can make it work – cheaper than disposables, all of the benefits of cloth diapers, and no responsibility for washing and drying. Diaper services also do their washing and drying in bulk, which uses even less water resources than washing your own!)
So far Cheeks is still only eating breastmilk, so he's not having solid poops yet. Our process might change once other food is in the mix. He has a poopy day about every 3 days or so, when he might produce 3-5 dirty diapers. In between poopy days he just wets.
Diapers, Covers and Wipes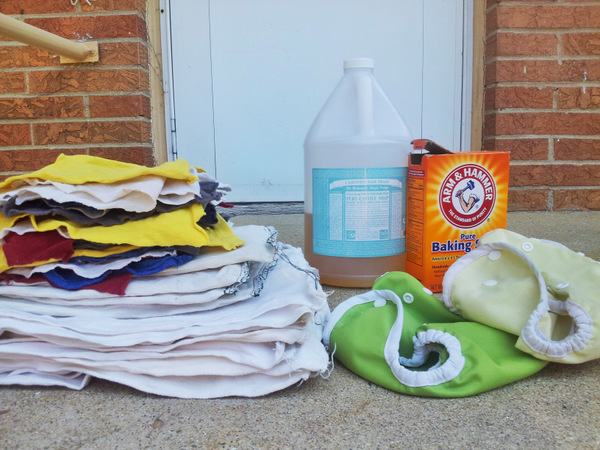 We use unbleached, organic cotton prefolds. Currently we have 12 infant size (12"x16") prefolds and 24 standard regular (14.5"x20.5") prefolds. The infant size is a bit thicker, and fit Cheeks as is. The standard regular size is a bit thinner, and since they are much longer, we double over the front to make them a thicker and to make them the right length.
We currently use Thirsties size 1 covers with snaps. We have 6 covers, and we love them. The tag on the size 1 says up to 18 lbs, but we probably have a bit longer than that before we need to get the size 2s.
We buy our diapers and covers through Diaper Safari.
We slip the corners of the prefolds into the corners of the covers, slip them under Cheeks' bum, fold the front of the prefold around his legs, and snap the cover together around him. Then we make sure everything is tucked into the cover around his legs, and we're good to go.
For wipes, we cut up a bunch of old cotton t-shirts into rags, and just use water for clean up. We originally thought we would use a mild soapy soak for the wipes, but when Cheeks was born, the hospital just had us use washcloths and water, so we decided no need for any soap.
Washing and Drying
With 36 diapers and 6 covers, at 5 months of age we can typically go 2-3 days before we run out and need to do laundry. When we change Cheeks, the diaper, any wipes we use, and the cover (if necessary) go into a 5 gallon bucket with a lid. Conveniently, after about 2-3 days it is also full, so that's the signal that we need to do laundry.
Right now, since the dirty diapers aren't so bad, we wash the diapers, wipes, and covers, mixed in with our regular laundry. The diapers, etc. don't make a full load, so we just fill up the washer with whatever else needs to be washed. We haven't had any trouble with staining or stinking. We set the washer to cool water and a regular cycle.
We use the same laundry detergent for all our laundry – diapers included. For each load we use 1/4 cup of castile soap (Dr. Bronner's is our personal choice), and ½ cup of baking soda. This works great at getting our laundry clean, fragrance free, and doesn't include any additives that could build up on the diapers and cause diaper rash or problems with absorbency.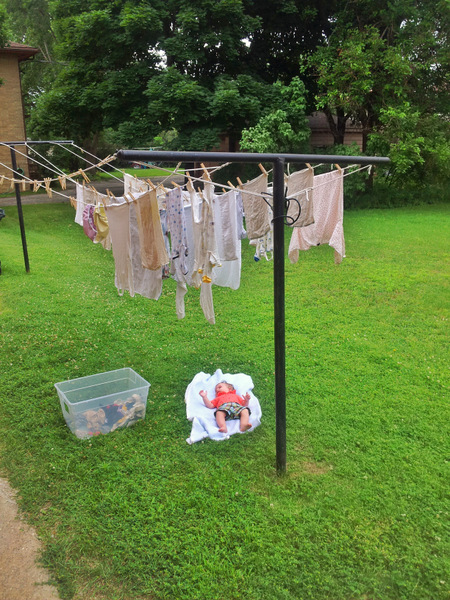 We line dry everything. In the summer our diapers (even the thickest ones) are dry in a few hours of sun, and the sun naturally bleaches any stains that may not have come out in the wash. Before we moved and had access to an outdoor clothes line, we hung our diapers on a drying rack indoors, and it took about 18-20 hours for them to dry out.
So, that's how we do cloth diapering at 5 months. I'll keep you updated if our process changes as Cheeks starts eating solid foods in the next few months.
…
This post contains affiliate links