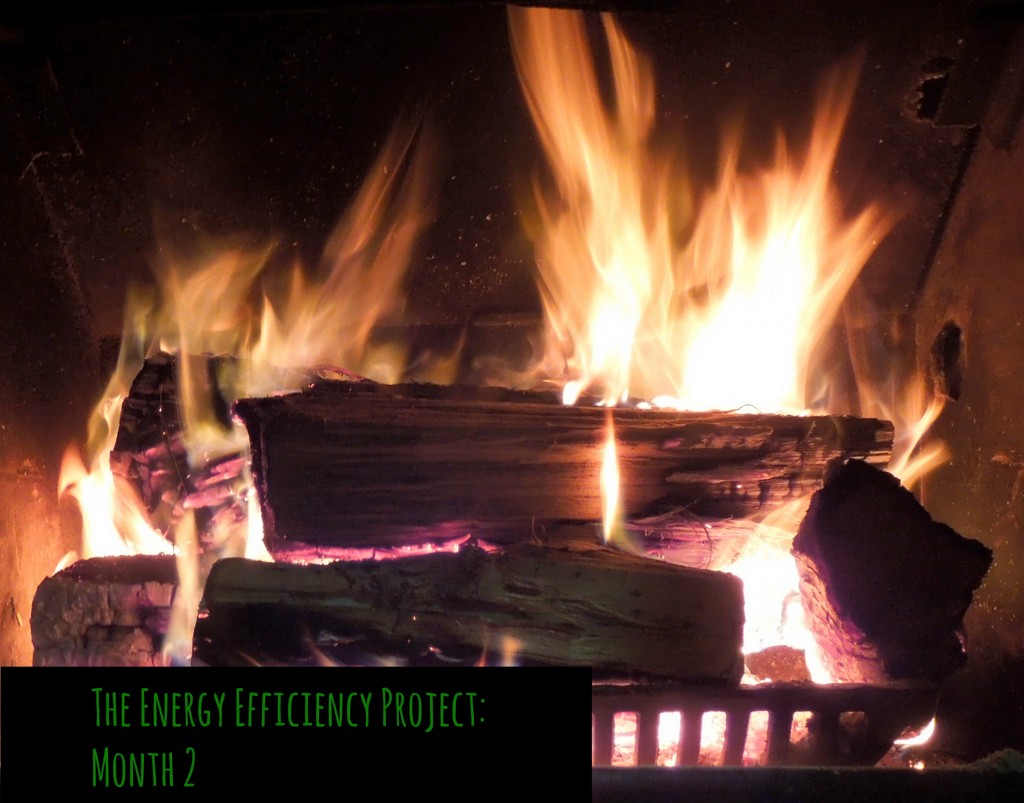 January 13th – February 12th, 30 days
This month we mostly spent our time picking paint colors, getting started with the painting, figuring out where our stuff should go, and getting our compost started. As far as energy efficiency initiatives went we:
Replaced a dead CFL light bulb with an LED bulb
Turned the thermostat down from 68° F to 66° F
Checked the air filter on our furnace to make sure it was new/didn't need to be replaced. It was still clean, so we didn't replace it.
This month's upgrade cost: $8.82
Total upgrade cost to date: $8.82
So, we didn't expect too much of a difference in our energy usage this month. Now let's look at the numbers!
Over 30 days we used 427 KWH. Which comes out to an average of 14.2 KWH/day. This is actually slightly higher than the 14.0 KWH/day we used during our last billing period. Womp womp.
I'm guessing this is due to putting up some post-Christmas holiday lights which are not LEDs. I know, I know, but here's the thing. We still have these strings of working fine holiday lights, and I can't bring myself to replace them until they no longer work. Use what you have, right? We also started some citrus tree seedlings, and had them germinating on a heating pad 24/7.
We are part of the Alliant Energy Second Nature renewable energy program, at the 100% level. (In this program you can choose the amount of your energy use that you want to be matched in renewables, and we chose 100%.) So the cost of our electricity is $0.13 per KWH, for a total of $55.90.
We also used 80 Therms of natural gas heat energy. Which averages out to 2.7 Therms/day. Definitely less than the 3.1 Therms/day we used during the previous month! Dropping the temperature on our thermostat made a difference, and really the only way it affected our lifestyle is we that we wore slippers around the house more often. Also, looking at degree days this month compared to last month: 1286 vs. 1211. Even though this months number is a bit larger than last month's, this month's bill was for 30 day and last month's was for 27 days. This means that our furnace didn't have to work quite so hard to heat our house this month, which also helped out with reducing our gas use.
The natural gas market fluctuates in Wisconsin, so there is not an easy dollar per Therm number to give you, but during this billing period we paid $65.99 for our gas use.
Our energy bill also provides these numbers for helpful comparison:
Electricity used this month last year: 744 KWH
Gas used this month last year: 97 Therms. Average temperature this month: 22° F. This month last year: 10° F. So last year was quite a bit colder than this year.
Degree Days this month: 1286 vs this month last year: 1652. Degree days are the number of degrees below 65° F in one day, all added together for the total 30 days of the billing period.
…
Want to previous months of the Energy Efficiency Project? Here is Month 1.
This post contains affiliate links. Thanks for helping to support building earth!