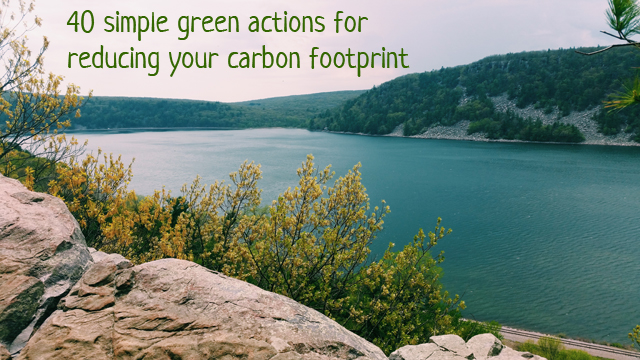 For the past month I've had the opportunity to be a part of a climate change discussion group in my community. We've been reading EAARTH, and discussing the realities of climate change both world wide and within our own small part of SW Wisconsin. And we've been trying to envision what action looks like for us.
It's easy to get overwhelmed by how big this problem is, and how little it seems like our personal actions are. The Tanzanian's have a saying, "Haba na haba hujaza kibaba." Which translates to "Little by little the bucket gets filled," and that's important for us to keep in mind. Yes, we may have seemingly little say in the policies enacted within our own states and country, let alone in the worldwide cooperation that is needed to tackle our energy, and resource issues and our greenhouse gas emissions. But we can start taking simple, concrete actions now. And as we successfully implement each habit, it will be easier to take the next step. Little by little, we'll fill the bucket.
So with those thoughts in mind, here's a list of actions you can start taking right now to increase conservation, decrease energy use, and reduce your carbon footprint.
40 green actions you can start today
1. Switch out your incandescent light bulbs for LED light bulbs.
2. Plug your electronics into a power strip, and turn off the power strip when you're not using them.
3. Turn your thermostat up a few degrees now (and down a few degrees in the winter).
4. Sign up for your local power companies green energy program, you'll pay a little extra for your energy, but you'll get it from renewable supplies and tell your power company how important it is for them to invest in renewables.
5. Set the temperature on your hot water heater to 120 degrees or lower.
6. Hang dry your laundry.
7. Stop watering your grass.
8. Plant something edible.
9. Shop your local farmers market.
10. Bring reusable bags along for all your shopping trips (not just to the grocery store!)
11. Purchase dry goods like beans, grains, and pasta from the bulk bins.
12. Start a compost pile.
13. Clean with vinegar, baking soda, and castile soap.
14. Walk if your destination is less than a mile away. Work your way up to two miles away.
15. Look for opportunities to carpool or take public transportation.
16. Add meat-free meals to your repertoire.
17. Purchase humanely and ethically raised meat.
18. Unsubscribe from catalogs
19. Unsubscribe from "junk" mailings
20. Refresh yourself on your communities recycling capabilities and look for opportunities to expand your recycled materials.
21. Carry a reusable water bottle or coffee mug.
22. Use reusable bags or glasses for food storage.
23. Eat fruits and vegetables that are in season and grown in your area.
24. Support local small businesses and local trades workers.
25. Shop consignment or second hand stores for clothing, rather than buying new.
26. Share infrequently used appliances and tools with your neighbors, like lawn mowers.
27. Shovel your snow instead of using a snow blower.
28. Set up a clothing swap among your friends and neighbors.
29. Support local conservation by visiting your state parks.
30. Let your grass grow a bit longer between mowings.
31. Purchase "made in America" and recycled materials.
32. Donate your own no longer used items to second hand stores.
33. Cook more meals at home.
34. Make your own coffee.
35. Use mulch on your garden to cut down on watering needs.
36. Wash your clothing on the cold cycle.
37. Switch from paper napkins, towels, and tissue to cloth.
38. Check out books from the library.
39. Sign up for electronic statements.
40. Sign up for electronic bill pay.
Again, these simple actions aren't going to save the world from climate change, but they will start a habit of mindfulness about consumption and energy use. These small actions can help pave the way for you to start taking bigger actions, and they can start conversations with your neighbors, friends, family, and co-workers.
Do you have others to add to this list? Send them my way!
This post contains affiliate links
…
Have you signed up for the building earth newsletter yet? You can do that here!
Keep up with building earth by following us on facebook, pinterest, or on @buildingearth on instagram