I'm back after a couple week hiatus due to finally finishing up our move from apartment to house, some traveling, and some adjusting to a new schedule. One of the troubles with having a significant other who is in residency is the constantly shifting schedules. Throw in the mix a toddler that thrives on a schedule, and it means our life sometimes goes topsy-turvy as we adjust. And now we're well past due for giving you an energy efficiency project update. So, here goes.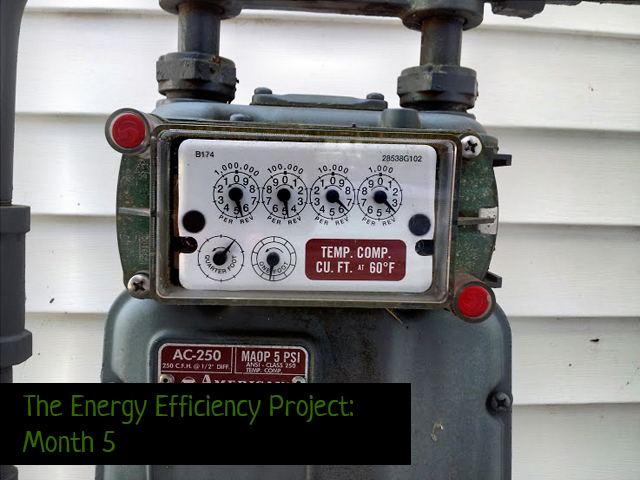 April 14th – May 13th, 29 days
We had a mid-April cold snap that caused us to turn the heat back on for a week or so. And as I mentioned above, we completed our move during this billing period, so we have a few more energy users in our home these days – a television and XBox, a lamp, etc. And lengthening days mean we're using our lights less. Nothing special in terms of upgrades for energy efficiency this month. But it's important to have months where we don't make any big changes and just live in our home so we can get a sense of our baseline energy use.
This month's upgrade cost: $0
Total upgrade cost to date: $17.64
Over 29 days we used 451 KWH. Which comes out to an average 15.5 KWH/day. Compared to the last billing period average of 9.45 KWH/day, you can see the definite difference in energy use between basic maintenance mode, and everyday living mode.
We are part of the Alliant Energy Second Nature renewable energy program, at the 100% level. (In this program you can choose the amount of your energy use that you want to be matched in renewables, and we chose 100%.) So the cost of our electricity is $0.13 per KWH, for a total of $59.04.
We also used 13 Therms of natural gas heat energy. Which averages out to 0.45 Therms/day. Huzzah for spring and only using our furnace for about a week during this month. Degree days this month compared to last month: 347 vs. 754.
The natural gas market fluctuates in Wisconsin, so there is not an easy dollar per Therm number to give you, but during this billing period we paid $15.45 for our gas use.
Our energy bill also provides these numbers for helpful comparison:
Electricity used this month last year: 740 KWH
Gas used this month last year: 17 Therms. Average temperature this month: 53° F. This month last year: 51° F.
Degree Days this month: 347 vs this month last year: 466. Degree days are the number of degrees below 65° F in one day, all added together for the total 33 days of the billing period.
…
Want to see previous months of the Energy Efficiency Project? Here is Month 1, Month 2, Month 3, and Month 4.
Keep up with building earth by following us on facebook, pinterest, or on @buildingearth on instagram