When we bought our house last winter, we up-sized from a 500 square foot apartment to about 1000 square feet. Giving us quite a bit more space to furnish. We also are ready to say goodbye to some of our mass produced, not-so-high-quality furniture, and invest in some furniture that will last us decades rather than a few years.
One of the first furnishings we needed to think about was some shelving. I wanted something that was custom designed for our needs, sturdy, attractive, and earth friendly. Currently, I'm most inspired by rustic and industrial furnishings, so I had been eyeing some of the following pictures as inspiration:
I like that the mounted shelves are easily customized, and can be moved around if we want a different configuration in the future. And I love the chunky look of the pipe shelving. So I combined the two, and made wall mounted shelves with 2″ thick boards rather than 1″.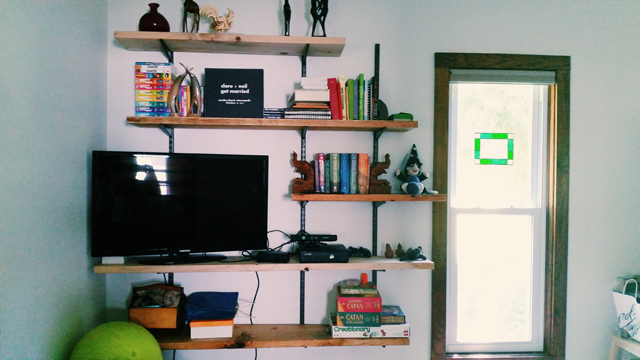 So what made these shelves a bit more earth friendly? I got half of my lumber from my local Habitat Restore, which means it was either salvaged from some deconstructed project, or the left-overs from a project. Reusing materials that still have plenty of life left in them allowed us to save some boards from the burn or trash pile, and helps keep a tree from being cut down.
…
Have you signed up for the building earth newsletter yet? You can do that here!
Keep up with building earth by following us on facebook, pinterest, or on @buildingearth on instagram