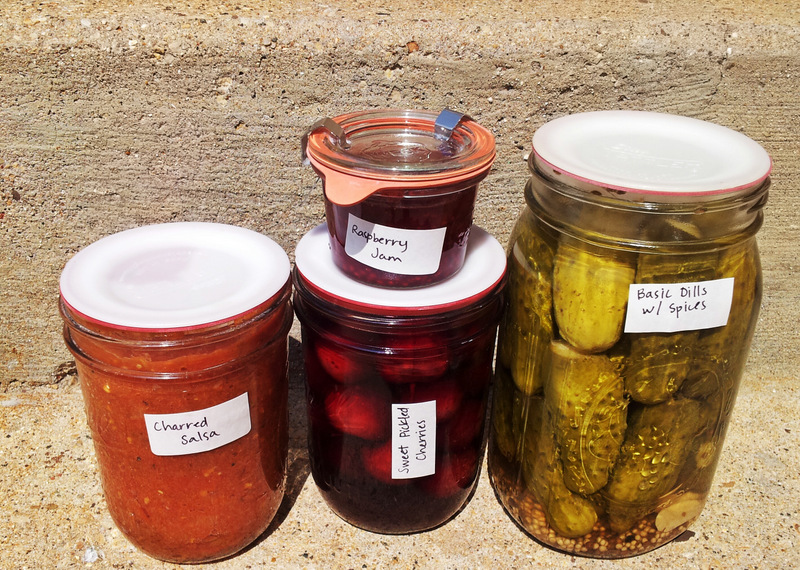 I've been a pretty serious canner for 3 or 4 years now, and don't see myself stopping anytime soon. In fact, during the summer I'm continuously checking out my jar supply and trying to figure out if I'll need to supplement this year. The answer always seems to be yes. My family loves pickles and salsa. We use crushed or diced tomatoes as a base for pizza sauce or in chili all winter. Applesauce made to the perfect consistency and with only 2 ingredients is a wonderful dinner side-dish in a pinch, and also makes a great grab and go for the last minute pot-luck. And I've started getting more into jams. Seriously, homemade raspberry jam is pretty much sublime.
And every year I find myself scrambling to make sure I have enough lids. I have rings coming out my ears, since those are reusable, but it kills me that I only get one use out of the standard ball canning lid. So I started looking into if there was a reusable option for the lids as well. It turns out there are a couple options to make my canning habit greener, at a range of prices.
Reusable Canning Lids
Le Parfait makes high end canning jars with hinge lids and rubber gaskets. These jars, or others like them are on my "someday" list. They come in a wide variety of sizes, including 2 and 3 liter sizes, which might be a little impractical for water bath canning, but would be excellent for holding fermented foods in the fridge or for storing dry goods.
Weck makes some gorgeous options. They come with a glass lid, a rubber gasket, and some metal clips to hold it all securely in place while canning. Most of what they offer seems to be primarily designed for jellies and jams – preserves that are well suited to smaller jars or tall and narrow jars. A good friend gave us a few jams in weck jars as part of a baby/new-parent gift, and not only were the jams delicious, but I've been smitten with the jars ever since.
What I ultimately decided to go with for now are these Tattler reusable canning lids. The lids are made of BPA free plastic, and come with rubber gaskets. They fit all the mason jars I already have and pair easily with all those rings I have lying around for canning. So far I love them, and it makes me so happy to know that I'll get year after year of use out of them instead of one-and-done.
Do you have any household habits or hobbies that you've recently made greener?
This post contains affiliate links.